By Charles Randall
26 July 2012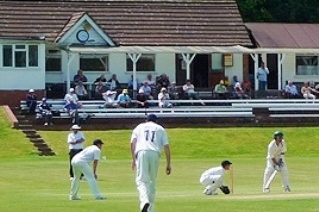 Barnt Green showed some enterprise to beat the weather when they borrowed a neutral ground to ensure their Kingfisher Beer Cup round could be played, and their reward was a place in the national quarter-finals.
Knowing that fellow Birmingham & District League club Kidderminster Victoria had an away tie -- they won at Neston -- Barnt Green requested use of the vacant ground, and opponents Brentwood agreed to the switch rather than risk an eventual toss of the coin. This arrangement reflected very well on all three clubs in this rain-ruined season.
Barnt Green, captained by the former Warwickshire and England all-rounder Dougie Brown, won an interesting match by nine runs against the Essex Premier League champions and went through to a home quarter-final clash against Havant, one-wicket winners over Teddington. This time the venue on Sunday will be Cherry Hill Road not Kidderminster.
Seamer Joe Buttleman enjoyed a very good all-round game for Brentwood, taking 5-29 and top scoring with 34 off 33 balls, but Barnt Green did just enough. Sensible batting from Thomas Brown, with 29, Dougie Brown 28 and Kieran Rees 32 not out produced a total of 180, an awkard target for Brentwood in 45 overs on a pitch taking spin. Indeed the accurate left-armer Stephen Bevan, with 2-21 off nine overs, pushed Brentwood fatally behind the rate until they eventually needed 18 off the final over.
Kidderminster were shot out for 114 in only 33.5 overs in Cheshire, with Chris Finegan taking four wickets, but their bowlers hit back to dismiss Neston for 62 in 28.2 overs. Richard Kimberlin quickly removed the first three Neston batsmen, and Mark Mansell polished off the innings with 4-7 in 7.2 overs. They next play the Rochdale club Bamford Fieldhouse at home.
The battle between two Premier League leaders ended in a last-ball victory by two wickets for Bridgwater against South Wilts at Salisbury. Jack Mynott hit 78 not out for the Southern League home side in a respectable total of 159-4 after Ian Bishop's early wickets had reduced them to five for three wickets. Bishop took 3-10 in his nine overs.
Bridgwater, West of England League leaders, suffered a collapse after a comfortable start when Jack Sheppard took four wickets, but Ed Habberfield and Chris Skidmore calmly saw through the final 15 runs for victory until one run was required from the last ball.
A Club Cricket Conference spokesman commented: "This is the kind of imaginative thinking that is needed, especially during such a difficult season. We hope that clubs in a similar situation will also be drawn to our fledgling online ground hire bureau."